On 10 June 2021, the inaugural issue of Benchmark Litigation China was launched. This is a regional guide focusing on the legal market in several key Chinese provinces and cities. The guide covers six major regions in China: Beijing, Guangdong, Shanghai, Zhejiang, Jiangsu, and Western China (Sichuan and Chongqing). The practice areas ranked include commercial disputes, construction and real estate, international arbitration, intellectual property, government and regulatory.
As the only law firm in Zhejiang to be ranked first in all three practice areas, T&C Law Firm was also awarded the " Tier 1" in the areas of commercial disputes, construction and real estate, and "Highly Recommended" in the area of intellectual property in the first issue of Benchmark Litigation China.
Linyong Fu,Managing Partner of T&C was awarded the title of "Litigation Star" in the field of commercial disputes and international arbitration. According to the review, "International arbitration expert Linyong Fu is an outstanding partner of the firm who is also active in the field of commercial disputes." He is described by international arbitration clients as "professional, dedicated and considerate".

Tier 1
·Commercial Disputes
·Construction and Real estate
Highly Recommended
·Intellectual Property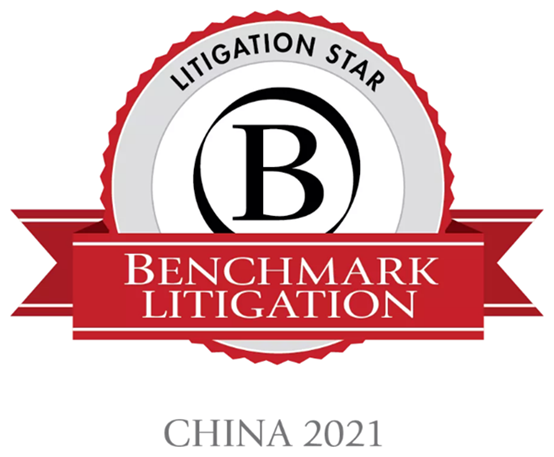 Litigation Star
Linyong(Leon) Fu
Managing Partner
T & C Law Firm
·Commercial Disputes
·International Arbitration
Benchmark Litigation is an internationally renowned legal rating agency of the Euromoney Group, specializing in the field of dispute resolution. It is regarded as one of the definitive reference guides in the field of dispute resolution. The findings are based on the result of extensive and in-depth interviews conducted by its research team with dispute resolution experts, litigators and client representatives, weighing the cases of law firms and lawyers during the research cycle, client feedback and the views of professional legal practitioners in the practice area and jurisdiction.
Dispute Resolution is one of the traditional strengths for our firm. We have outstanding performance and adequate experience in the field of litigation and arbitration. Some of our attorneys are qualified arbitrators for China International Economic and Trade Arbitration Commission, Shanghai International Arbitration Centre, Shenzhen Court of International Arbitration, Hangzhou Arbitration Commission or Ningbo Arbitration Commission and some are former judges with full understanding of the judicial system and procedures. Our dispute resolution group cooperates closely with other groups of our firm as well, which enable us to provide clients with overall legal service in the fields of construction and real estate, intellectual property, corporate and commercial, domestic dispute resolution and cross-border arbitration.